Air 4D - Incl Internal Fittign Kit - 12V or 24V - Autoterm
The Internal mounting kit adds the below components to the standard kit.
AT0025 Mounting plate
1m of 90mm ducting
96-90mm reducer- for hot air outlet
90mm flange and open grill - for hot air outlet
NEW EU Manufactured Unit
Available in 12V and 24V options
This is the standard Air4D kit , plus internal installation kit
Internal installation kit includes below
Standard internal mounting plate
1m of 90mm APK air ducting
1 by 96-90mm reducer (from heater outlet to 90mm ducting)
1 by 90mm flange
1 by 90mm open grill (to fit flange above)
Optional additions include
Extra metres of hot air ducting
Y Pieces and T Pieces to distribute air to additional outlets
Additional flanges and grills (always order these as a pair) available in both constant open, and closable
Control panel extensions or longer replacements
AUTOTERM Air 4D is one of the most popular diesel-powered air heaters from the Air series.
The heater unit draws fresh air from the outside or from a well-ventilated room, then heats it up quickly, thus providing comfort and warmth in low temperature environments.
The heater's maximum power output is 4 kW, and it is capable to produce up to 168 m3 of hot air flow hourly, and maintaining your desired temperature.
AUTOTERM Air 4D is highly versatile when it comes to installation and can be easily retrofitted in almost any land vehicle, marine transport vehicle and is supplied with a full installation kit, whether you choose the 12V or the 24V DC version.
AUTOTERM Air 4D with its economic fuel consumption of 0.51 l/h on maximum power is a highly rated product for its low and reasonable price.
All AUTOTERM Air series heaters are equipped with brushless induction motors that ensure low noise levels as well as a long lifetime for the device and the capability to operate in extreme environments and temperatures as low as -45°C/-49°F.
AUTOTERM Air heaters can be controlled with various control panels or remotely via your iOS or Android smartphone (remote control modem sold separately).
Technical parameters:
Heating power: 4 kW
Fuel: Diesel
Voltage: 12V / 24V
Application: Vans, Campers, Trucks, Off-Highway, Boats/Yachts
Control unit with High Altitude Sensor
Standard Kit Includes Below
Your choice of 12V or 24V Autoterm Air 4D heater- EU manufactured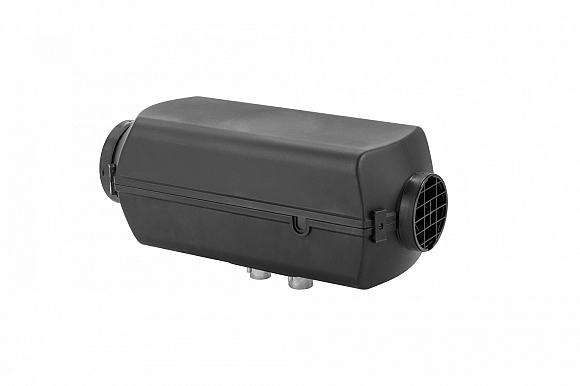 Your choice of controller - PU-27 or New Comfort Control or New PU-28 Touch Screen Controller